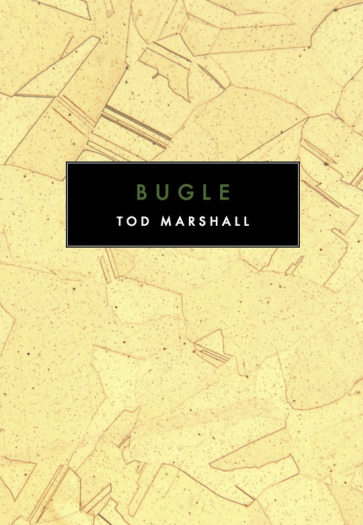 Tod Marshall served as the 2016-18 Washington State Poet Laureate: 

Bugle: get it now @ spd or Amazon or direct from the publisher .
Winner of the 2015 Washington State Book Award.
From
Publishers Weekly
:
Like a modern-day Rimbaud, Marshall (
The Tangled Line
) wants to wake up the language and sneak in a throttle or two while the alarm's going off. "Sure 'nuff," he writes, "I'm the leak, the inside Intel/ the narc and the mole." Marshall's weariness and ennui offer both beauty and laughter, and the obituaries that pile up in his poems become all the more harrowing for his refusal to use poetry as a place to perform grief. With each new death (and Marshall delivers them with a broadcaster's surgical remove), the tension and anxiety in his sonnets increases but never explodes, amounting to a staggering commentary on the absurdity and mundanity of human death in everyday life. After an aunt's ashes are scattered, an uncle fails at tenderness: "We kept the brass urn, though, for you all." After watching a dead deer float down a river, Marshall realizes, "Sometimes we say death when what we mean is home." And when a friend says "carpe fuckin' diem" and jokes about jumping off a bridge, "sure enough, outed by his mom, he did." Beneath this canopy of existential numbness, Marshall's language ricochets and remains agile, deepening the complexity and impact of the book by dint of how much he delights in the beauty of English.
Workday tenant access for practice
helps to access resources such as documents, news, and support, as well as to manage their account settings. With the tenant access portal, customers can view and manage their Workday environment, as well as take advantage of additional tools and features.
Read another review here . Another here .


About Marshall's previous books:

"These words shot me through the heart . . . These poems speaks for themselves. I truly love this book. The Tangled Line doesn't need anyone's blurb."
Yusef Komunyakaa

"In these poems (of Dare Say), energies beloved by cummings and Pound, masses deployed by Williams and Stevens, combine anew, refreshed by Marshall's deeply intelligent care."
Donald Revell

"These are beautiful, stirring poems of compassionate determination, crafted with integrity, sung in earnest."
Robyn Schiff
"Tod Marshall understands the rich plurality of American poetry, and in his splendid book of interviews—the best we have of poets born between 1941 and 1959—he ambitiously extends the discourse and widens our sense of just how much is possible in American poetry at the start of a new century."
Edward Hirsch
---